Russian Internal Strategy Document Details Kremlin's Plans
Russian internal strategy document details the Kremlin's plans to take control of Belarus within 7 years
Russian President Vladimir Putin's executive office distributed an internal strategy document in the fall of 2021 that lays out the Kremlin's 10-year plan to take full control of neighboring Belarus, a country north of Ukraine that borders three NATO members, Yahoo News reported on Monday.
Belarusian President Alexander Lukashenko, who has held office since 1994 following the dissolution of the Soviet Union, is a close ally of Putin and a vocal supporter of the invasion of Ukraine.
The internal strategy document, obtained by Yahoo News, details Russia's plans to annex Belarus and create a "Union State of Russia and Belarus" by 2030.
The Presidential Directorate for Cross-Border Cooperation authored the scheme, which outlines benchmarks the Kremlin must hit by 2022, 2025, and 2030 to ensure that Russia has "control of the information space" and that there is a "common approach to the interpretation of history" in Belarus, according to Yahoo News. Russia allegedly wants to achieve this through political, economic, and military tactics.
WHO IS BELARUS PRESIDENT ALEXANDER LUKASHENKO, 'EUROPE'S LAST DICTATOR'?
The Russian and Belarusian embassies in the U.S. did not return requests for comment on Monday evening.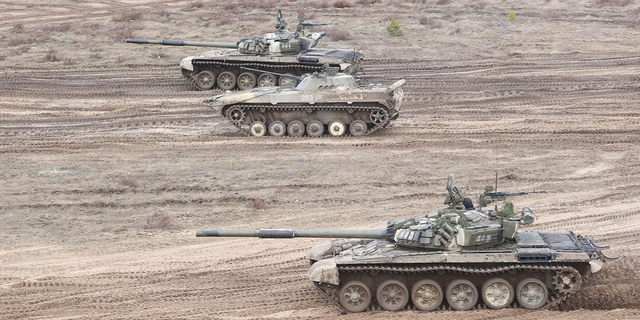 Russian forces staged on Belarusian territory ahead of Putin's invasion last year, but Lukashenko has so far declined to get directly involved in the conflict.
BELARUSIAN COURT SENTENCES PROMINENT POLISH JOURNALIST TO 8 YEARS IN PRISON FOR 'INCITING DISCORD'
Ahead of Lukashenko's most recent visit to Moscow last week, the Belarusian leader said that troops would be deployed if Ukrainians encroach on their territory.
"I'm ready to fight together with the Russians from the territory of Belarus in one case only: if so much as one soldier from (Ukraine) comes to our territory with a gun to kill my people," Lukashenko said last Thursday.
"If they commit aggression against Belarus, our response will be the cruelest. The cruelest!"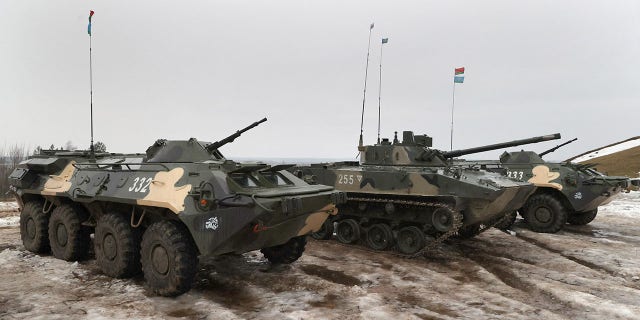 Belarusian Defense Minister Viktor Khrenin said Monday that the country will form a new paramilitary force of up to 150,000 volunteers.
The internal strategy document is part of what many Western leaders have warned is Putin's ultimate goal in invading Ukraine.
"He has much larger ambitions in Ukraine," President Biden said on the day of Russia's invasion last February. "He wants to, in fact, reestablish the former Soviet Union. That's what this is about."