Superhumans! Wounded Ukrainians walking back to victory with the help of a new rehab center
FIRST ON FOX – Russia's full-scale invasion of Ukraine cut Denys Kryvenko's vacation short last year. A 24-year-old mold-maker from Kropyvnytskyi, Ukraine, Kryvenko, who joined the 57th Motorized Infantry Brigade after evacuating his younger siblings, is now a triple amputee recovering at the Superhuman Medical Center near Lviv, Ukraine.
After four surgeries, above-the-knee amputations on both legs, and losing his left wrist, Kryvenko is now holding an iPhone in his only working limb – a right hand and says he remembers every minute of the attack that saw him disabled. It was near the embattled city of Bakhmut his unit came under fire, and seconds later, Kryvenko realized he lost both legs and his life would never be the same again.
"My comrades carried me over to the evacuation point, more than two kilometers from where I got injured. On the way there, a roller-coaster of emotions hit me. I was first crying, then hysterically laughing and cursing, I said goodbye to my comrades and sang our national anthem," Kryvenko recalls.
ZELENSKYY SAYS THE UKRAINIAN CITY OF BAKHMUT IS 'ONLY IN OUR HEARTS' AFTER RUSSIA CLAIMS A SEIZURE
He is one of the first dozen patients undergoing rehabilitation at the Superhumans Center – a newly established medical center aiming to become Ukraine's first venue for reconstruction surgeries. Until then, Superhumans provided prosthetics and rehabilitation services – something patients previously had to travel to Europe or the U.S. for.
"The cheapest leg that we can install, including rehabilitation, will cost around €12,000 (approximately $13,000), and the cheapest arm would cost about €19000 (approximately $20,000). That includes psychological rehabilitation and physiological rehabilitation, as well as the device itself," Superhumans founder Andrey Stavnitser told Fox News Digital, adding "1 million U.S. dollars can save 50 people".
To be admitted to the Superhumans Center, patients must meet a short criteria list with "dirty amputations" being a dealbreaker. Since amputations are not done at the center, patients need them done properly so that prosthetics can be fitted correctly and rehabilitation can begin.
According to Stavnitser, almost every other amputation must be redone, as initial amputations take place on the front.
"It is horrible. I know a guy with 19 re-amputations. His amputation started with the wrist and ended up with his shoulder. And it's not very uncommon," Stavnitser says.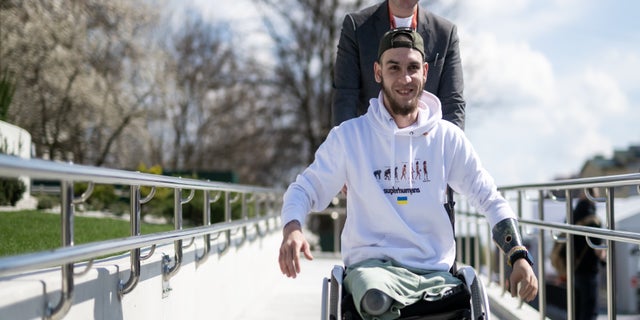 RUSSIAN INVASION KILLS 42K UKRAINIAN CIVILIANS SINCE START OF WAR, US OFFICIALS SAY
According to Superhuman's data, roughly 15,000 individuals need prosthetics in Ukraine as Russia's invasion grinds on.
Fifteen months into Russia's invasion, Ukraine anticipates the number of its veterans will grow by 10 times.
In an exclusive interview with Fox News Digital, Ukraine's Minister for Veterans Affairs Yulia Laputina said her agency had about half a million veterans registered before the Feb. 24 invasion.
"We expect the number of veterans to reach 4, even 5 million people."
On top of the dramatic rise in numbers, Laputina pointed out another major difference between the 2014 war veterans and those of the ongoing invasion. In 2014, most of the veterans came from the army. Now, the background of those who are fighting differs.
"People from all walks of life joined (the) army – bankers, managers, teachers. They were not ready for the war. Now they are on the battlefields, where they experience traumas and dramatic experiences they were not prepared for," Laputina said.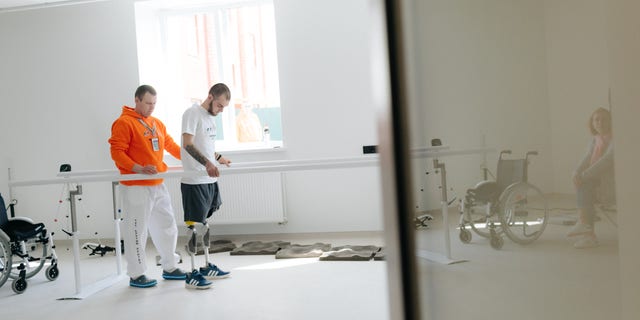 POLAND SAYS NO TO ANY 'ARTIFICIAL PEACE PLAN' BETWEEN UKRAINE, RUSSIA
Another trend the minister mentioned was the age of veterans. "This war brings new veterans, people from 30 to 50 years old, people who shall be integrated with the society and given a chance of self-realization."
Because of Russia's indiscriminate bombing of civilian infrastructure, the demography of the wounded is no longer bound to the military and veterans. The Superhumans founder told Fox News that, unlike many previous wars, this war has new casualties.
"Demographics of our patients are random. We have a 14-year-old boy who was injured while walking home in Kherson and lost his arm; we have the 18-year-old girl from Odesa – a medic volunteer who was helping evacuate wounded soldiers, she lost her leg," Stavnitser explains.
Back at the Superhumans Center, Kryvenko is learning to walk again. It is hard, he said, realizing it is the skill he will need for the rest of his life.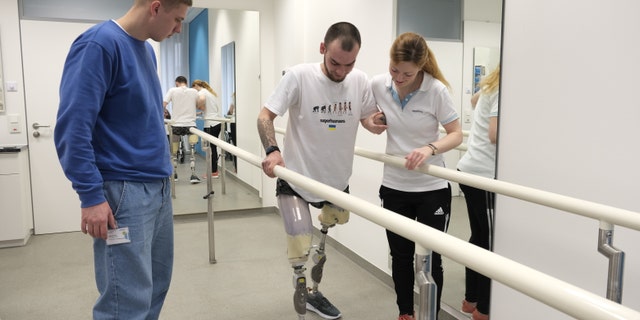 "If you fall, you must get up. I already learned these basics; more practice is ahead to overcome the fear of falling," he says.
The other short-term goal? Kryvenko's short-term goal is to drive a car. "I know it is possible and I will achieve it!" – he said confidently, adding "There is a long way ahead."
There might not be much clarity about the future in Ukraine right now, but one thing is crystal clear for Kryvenko, he wants to become a psychologist "to help other veterans and wounded Ukrainians to return to their lives," something Superhumans is now helping him with.